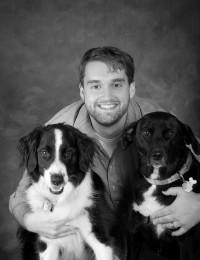 DVM
I was born and raised in a small town in Iowa, in the heart of the Midwestern United States, where I realized at an early age that I wanted to become a veterinarian. During high school I began working at my hometown veterinary clinic and fell in love with the diversity of challenges offered by veterinary medicine.
I completed my Bachelors of Arts in biology at Wartburg College prior to being accepted to Iowa State University's College of Veterinary Medicine.  My wife and I then decided to trade the cornfields of Iowa for the mountains of the Pacific Northwest.
I love the variety that comes with working in a small animal clinic, knowing that each day may be completely different than the last. My favourite part of my job is being able to form important, lasting relationships with my patients and their owners.  My professional interests include internal medicine, dermatology, soft tissue surgery, and preventive medicine.
My wife, Amanda and I currently reside in Vancouver with our two dogs, Lucy and Sherlock, and one cat, Ramirez. In my free time I enjoy hiking, camping, and jogging with my dogs, reading, painting, and watching football, hockey, and soccer.