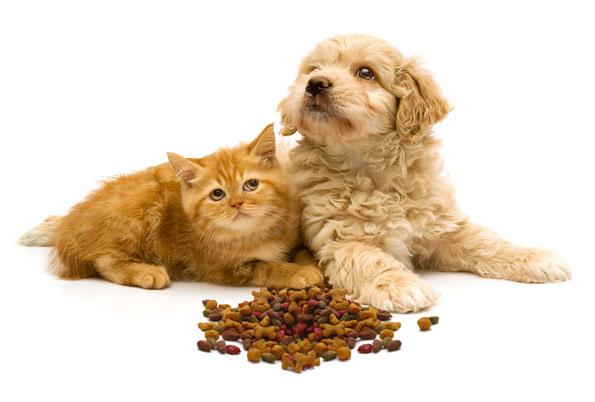 Beaks, Feet and Feathers, Oh My!
When trying to choose the right food for your pet, you can often feel confused and mislead. We want to try to help you make the right decision for you and your pet. Let's try to dispel a few of the myths associated with pet foods…
By products—This term doesn't sound very appetizing, but it just means a secondary product. By products are often found in pet and human food. For example, Vitamin E, gelatin, beef bouillon, beef liver and vegetable oils are all by-products. Heart, lungs, kidney, liver and other organs are used in pet foods. These are very high quality protein sources which will provide your pet with nutrients and minerals. Beaks, claws and feathers are rarely included in pet foods.
Corn—Corn is an excellent source of protein, carbohydrates, insoluble and soluble fibres and omega fatty acids. Corn is also highly digestible, higher than several other grains such as rice, wheat, barley and sorghum. Some consumers are concerned that corn may be a filler. Fillers offer no nutritional value whatsoever. Corn, as mentioned above, is a superb source of nutrients.
Grain "free" – Some companies will exchange carbohydrate source for another or use terms that consumers may not easily recognize. For example, peas and oats contain carbohydrates, and sweet potato contains more carbohydrates per serving than corn. Zea Mays is often on these labels and this is derived from corn.
All "natural" – According to the American Association of Feed Control Officials (AAFCO), the term "natural" requires a pet food to consist of only natural ingredients without chemical alterations; except for added vitamins and minerals. The term "organic" was legally defined for human foods by the USDA. While final rules have not yet been made, pet food companies can currently use the term "organic" if they follow the same rules as applied to human foods. Foods that are "100% organic" or "organic" will carry the USDA Organic Seal on the package. Currently Hill's does not offer an "organic" pet food product. Natural and organic are not interchangeable terms. "Holistic" has no legal definition. There is no regulation defining what the word holistic means with regard to pet foods. The term "human grade" was determined to be misleading by AAFCO. The use of "human grade" or "human quality" is not allowed in pet food marketing unless the food is made in a human food approved plant.
When shopping for pet food, there are a few things to consider…
Does the product offer different foods for many life stages to support your pet's needs throughout its life?
Does the food company product spend a majority of their budget on advertising or research?
Is the product recommended by veterinarians or one that is recommended by pet store employees?
We are always happy to answer any questions you have. Our goal is for you to find the right pet food to keep your pet healthy and happy, whether you choose to buy it from us or from the pet store.